Hosting the Highest Rated Casino Party Rentals San Antonio, Austin and Surrounding Areas
About Us
Just Like Vegas provides casino party rentals and casino nights in San Antonio and South Texas. We proudly feature:
Authentic Full Size Game Tables
Friendly and Interactive Dealers
Exclusive Innovative Equipment
Extras that Don't Cost Extra
Additional Features and Add-On Services
Exceptional Communication and Customer Service
Contact us today and let Just Like Vegas Bring the Strip to You!
Just Like Vegas Casino Parties include all the most popular table games. We can provide service for 25-1000 guests in the venue of your choice. The casino floor layout can be customized to fit any area. A consultant will meet with you at the desired venue during planning to review space requirements or concerns.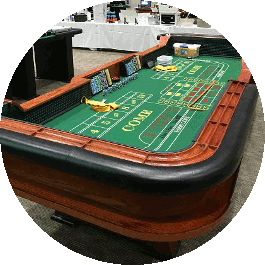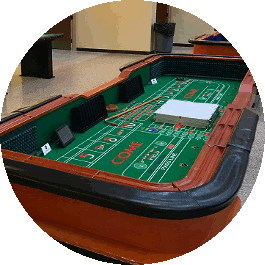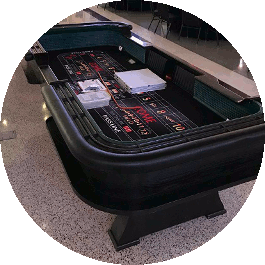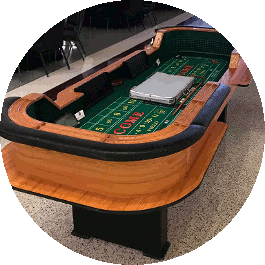 The most interactive of all the table games – no party is complete without a Craps table. Not sure how to play? Our friendly dealers will make you a pro by the end of your party.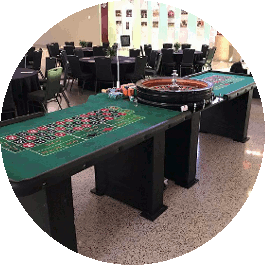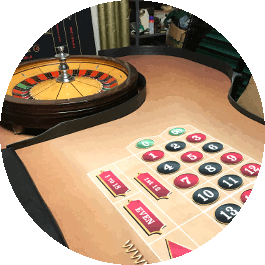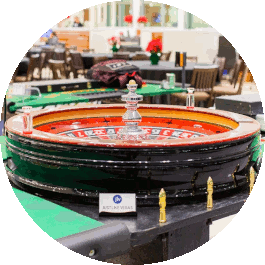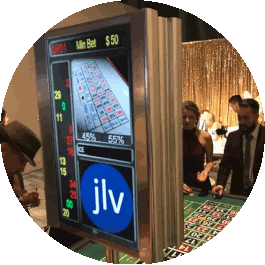 The easiest game in the casino to learn and play. Oh, and no toy wheels here – We are proud to be the only company in Texas exclusively using Full-Size 32″ Roulette Wheels. Make it an authentic experience by adding our Digital Roulette Reader with Dual Display – one of only a few in the country outside real casinos!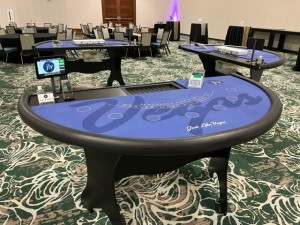 By far, the most popular game in the casino. For medium to large size events, most of your game tables will be Blackjack. Everyone loves 21 and our dealers love to hand them out.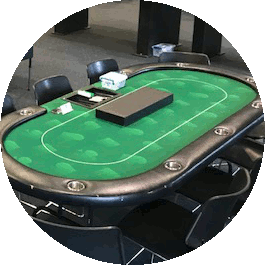 See why Texas Hold'em has taken the poker world by storm at one of our lovely tables with a private dealer. This modified version of 7-card poker will have you "all-in" all night long.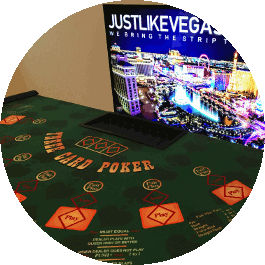 It is you versus the dealer with only 3 cards each in this slow-paced variation of poker. Place up to 3 separate bets and watch the chips roll in as you beat the dealer with just a high card!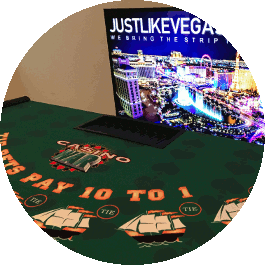 Your favorite childhood game all grown up. Its as simple as your card beating the dealer's. Happen to tie? Then go to WAR to win double or triple your bet!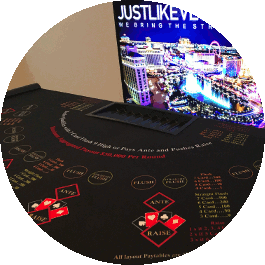 Like the game says, the highest flush wins! Your 7 cards versus the dealer's 7 cards, the more suited cards the better! This game offers plenty of side bets too!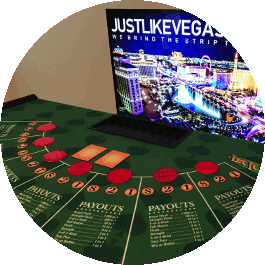 You've got 3 cards, the table has 2. Get at least a Pair of 10's or better and you win! Plus you can take back 2/3's of your bet if you don't like your cards.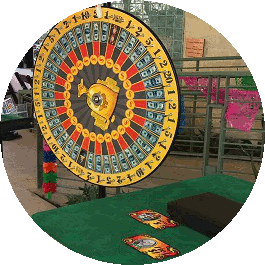 You may know this game as "Big 6", and it's usually up front when you walk in any casino. Complete with a large spinning wheel, players attempt to guess which number will hit.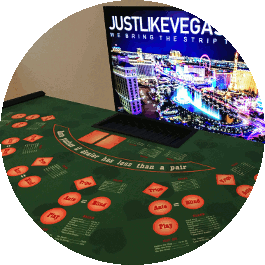 Similar to Texas Hold'em, players are dealt two hole cards, but play against the dealer and not each other. It's the ultimate heads-up poker.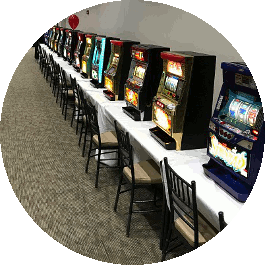 For those timid of the tables, we offer a variety of token-operated slot machines complete with bright lights and big sounds.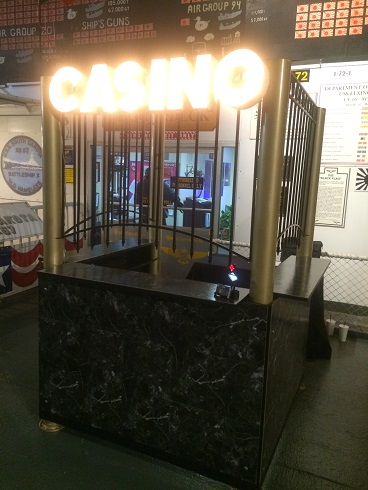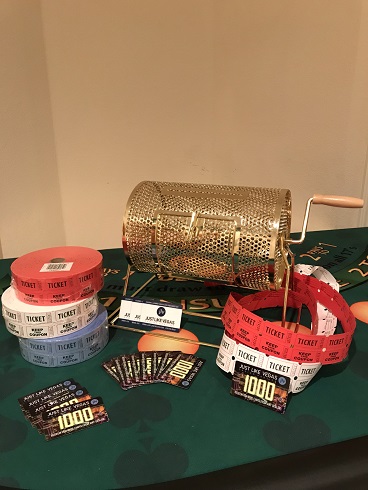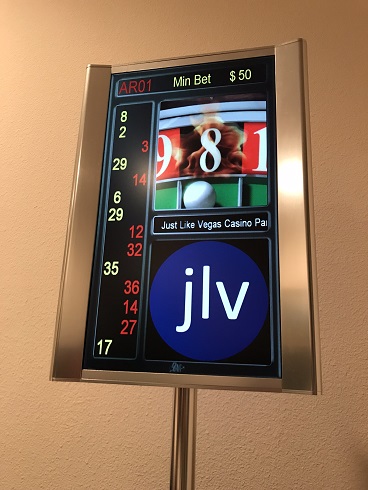 Just Like Vegas Casino Parties feature many extras that don't cost extra. All packages include Vegas-Style Players Cards, Raffle Tickets for prizes, and LED uplighting.
Want more? Check out our innovative In-Game Promotional Tablets. Like real casinos, our tablets display game info and min/max bets. Plus, you can add custom event graphics, your company or organization logo, even display your event sponsor logos – all for FREE!
Add these Premium Features to make your casino party next level! Additional cost applies
The following services are available as add-ons to any party package. This offers the convenience of one simple payment. We only work with select partners that reflect the same standards as Just Like Vegas.
What Our Clients Are Saying
We had a great time at our 1st annual poker tournament. We are looking to make this an annual event as well as other smaller events throughout the year. The Dealers were awesome and the event ran smooth!!!
What a awesome company, our dealer Mark was wonderful! Had a great time at Nikki & Joshua couple shower. The whole experience with this company was a breeze from scheduling to getting information highly recommend them.
JLV did a great job for our Casino Night. They provide a great environment for those who are experienced in casino games, as well as those who are looking to learn and try something new! Everyone on staff had great energy and we had a fantastic time!
We have worked with Mark and his team at Just Like Vegas for the past three years, at our Islander Athletic Fund Casino Night fundraiser. JLV is very professional, personable and their gaming equipment is top-notch. We look forward to working with them again at future events.
They did an AMAZING JOB with us!! They came to Our Lady of the Lake University and treated us like we were just like in Vegas. It was such an awesome experience working with them.
We had a great experience with Just Like Vegas Casino Parties! The staff was very friendly and energetic and the casino equipment was extremely nice. We will definitely be using them for future events!
We had an awesome time with Mark and his staff this past weekend! Thank you so much and we look forward to our next Casino Night Event!
Everyone had a great time playing blackjack at my son's party. None of the kids knew how to play at first but with Mark's help they learned quickly and played all afternoon. Mark is also great with communication in terms of setting up the details. Highly recommend!
The staff and set-up of JLV was incredible. Our party was a huge success and they were definitely part of the reason. I would highly recommend them and would use them again in the future.
Mark and his team did a great job at our company casino night party. The equipment was professional quality and the staff was very personable. The communication and set up process was excellent. The entire experience was Just Like Vegas!
Quick and easy set-up! Professional staff, Mark did an amazing job helping us figure out what we needed! Successful event for St. Paul School – We will definitely be booking JLV again!
Clientele
Casino Parties clients in the San Antonio and Austin markets
Ready to Party?
Complete the form below and a Party Consultant will contact you with pricing and availability info shortly.  Please include guest count, city the event will be held, and any other details in the comments section so we can give you accurate package options.
Call or Text us:
210-816-DICE (3423)