Casino Parties in San Antonio, Corpus Christi, Austin, Houston, and Surrounding Areas
About Us
Welcome to Just Like Vegas Casino Parties in San Antonio. We are South Texas' newest and best casino hosting service dedicated to providing you and your guests with a superior gaming experience at an exceptional value.
Our dealers are interactive and engaging. Our equipment is modern and streamlined. Our packages feature new technologies designed to promote sponsorships, raise brand awareness, and make your event more interactive – all at no additional cost.
Your team of dealers, managers, and support staff all have one goal – making your Casino Party feel Just Like Vegas.
Below are the table games offered by Just Like Vegas. All games are stand-up style except for Hold'em Poker; however most games can be converted to sit down format upon request. The casino floor layout can be customized to fit any area. A consultant will meet with you at the desired venue during planning to review space requirements or concerns.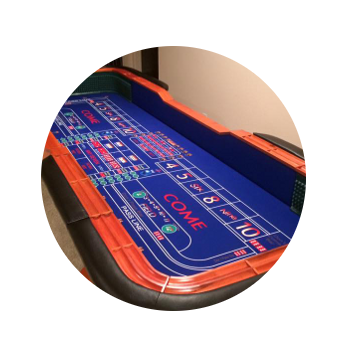 No Casino Night is truly complete without a Craps table. It is sure to produce the most action, laughter, and noise. We have three sizes of tables available to suit your spacing needs: Premium (12ft), Standard (10ft), and Compact (8ft).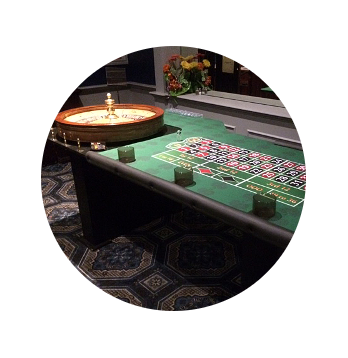 One of the easiest table games to play, Roulette has been spinning around for years. We are proud to be one of the only companies in South Texas to feature full-size 32″ roulette wheels. Variations include: Premium, Premium with extension, and Standard.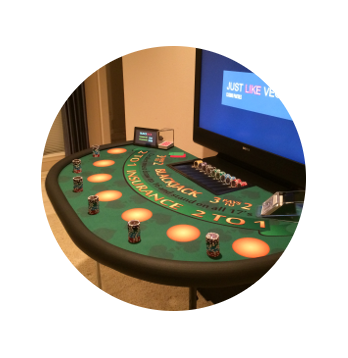 Can you count to 21? Well then you can play Blackjack. As our most popular table game, you will need more of these than any other at your event. Tip: Our dealers love to lose. Hmmm?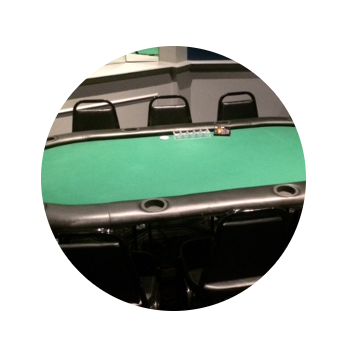 See why Texas Hold'em has taken the poker world by storm at one of our lovely tables with a private dealer. This modified version of 7-card poker will have you "all-in" all night long.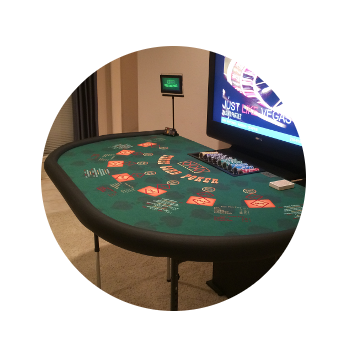 It is you versus the dealer with only 3 cards each in this slow-paced variation of poker. Place up to 3 separate bets and watch the chips roll in as you beat the dealer with just a high card!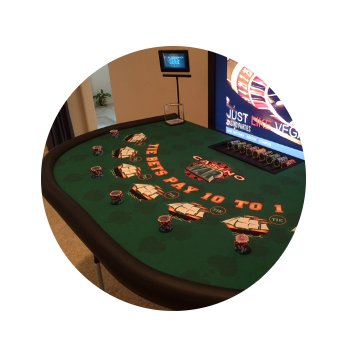 Your favorite childhood game all grown up. Its as simple as your card beating the dealer's. Happen to tie? Then go to WAR to win double or triple your bet!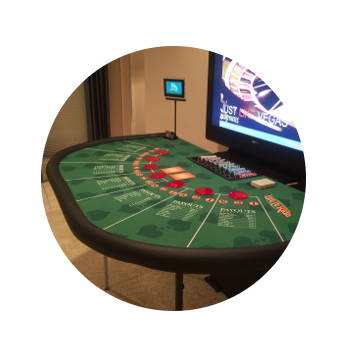 You've got 3 cards, the table has 2. Let-It-Ride is like 5-Card Stud Poker with a twist. You can take back a third of your bet at 2 different times. Winners are paid out according to an established schedule.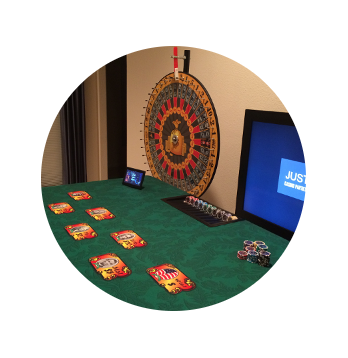 You may know this game as "Big 6", and it's usually up front when you walk in any casino. Complete with a (noisy) spinning wheel, players attempt to guess which number will hit.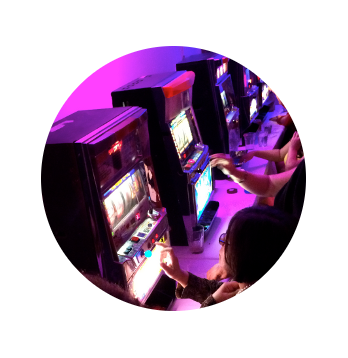 For those timid of the tables, we offer a variety of token-operated slot machines complete with bright lights and big sounds.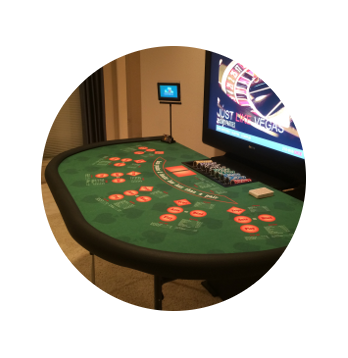 Similar to Texas Hold'em, players are dealt two hole cards, but play against the dealer and not each other. It's the ultimate heads-up poker.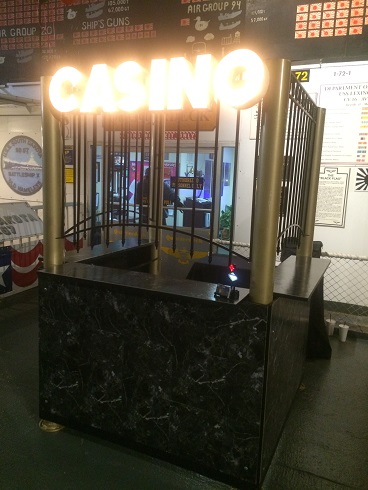 Every casino company has the games, but Just Like Vegas has the innovation. With features like the portable Cashier Cage, Promotional Tablets, Interactive Social Media Software, and convertible "on-the-fly" gaming tables, we will make your event more than just another casino night. Many of these extras are included with your casino party package at no additional cost.
The following services are available as add-ons to any party package. This offers the convenience of one simple payment. We only work with select partners that reflect the same standards as Just Like Vegas.
Trane Customer Appreciation Party
May 18, 2018
The Witte Museum
Southwest Fuel & Convenience Expo Kickoff
May 9, 2018
Grand Hyatt Hotel
AEP Texas Annual Safety Summit
May 8, 2018
Omni Corpus Christi Hotel
St. Paul Catholic School Fiesta Fundraiser
April 28, 2018
St. Paul Event Center
April 22, 2018
Spring Branch, TX
What Our Customers Are Saying
We had a great time at our 1st annual poker tournament. We are looking to make this an annual event as well as other smaller events throughout the year. The Dealers were awesome and the event ran smooth!!!
What a awesome company, our dealer Mark was wonderful! Had a great time at Nikki & Joshua couple shower. The whole experience with this company was a breeze from scheduling to getting information highly recommend them.
JLV did a great job for our Casino Night. They provide a great environment for those who are experienced in casino games, as well as those who are looking to learn and try something new! Everyone on staff had great energy and we had a fantastic time!
We have worked with Mark and his team at Just Like Vegas for the past three years, at our Islander Athletic Fund Casino Night fundraiser. JLV is very professional, personable and their gaming equipment is top-notch. We look forward to working with them again at future events.
They did an AMAZING JOB with us!! They came to Our Lady of the Lake University and treated us like we were just like in Vegas. It was such an awesome experience working with them.
We had a great experience with Just Like Vegas Casino Parties! The staff was very friendly and energetic and the casino equipment was extremely nice. We will definitely be using them for future events!
We had an awesome time with Mark and his staff this past weekend! Thank you so much and we look forward to our next Casino Night Event!
Everyone had a great time playing blackjack at my son's party. None of the kids knew how to play at first but with Mark's help they learned quickly and played all afternoon. Mark is also great with communication in terms of setting up the details. Highly recommend!
The staff and set-up of JLV was incredible. Our party was a huge success and they were definitely part of the reason. I would highly recommend them and would use them again in the future.
Mark and his team did a great job at our company casino night party. The equipment was professional quality and the staff was very personable. The communication and set up process was excellent. The entire experience was Just Like Vegas!
Quick and easy set-up! Professional staff, Mark did an amazing job helping us figure out what we needed! Successful event for St. Paul School – We will definitely be booking JLV again!
Clientele

3Sixty Integrated
543D Support Squadron-Lackland AFB
AEP Texas Energy Co.
Absolute Power
Air Today Heating & Air
Alen Corp Austin
Allen Boone Humphries Robinson Law Firm
Alliance Land Surveyors
Alternative Claims Management
American Petroleum Institute
Annie's RX of Boerne
Art Institute of San Antonio
Beat AIDS San Antonio
Beldon Roofing Home Solutions
Bexar County Tax Assessors Office
Beyond the Chair Inc.
Blake Fulenwider Chrysler-Dodge-Jeep
Bradley's Motors of Corpus Christi
Bulverde Spring Branch Fire/EMS
Catholic Charities of San Antonio
Clinical Pathology Laboratories
Clear Visions Inc.
Coastal Community Teachers Credit Union
Cox Media Group
Cyclone Riders San Antonio Chapter
Dents & Dings Auto Repair
Driscoll Children's Hospital
DOCUmation
Eilan Hotel Client Services
Ferguson Enterprises Inc.
Freese & Nichols Engineering Firm
George Hill's Rising Stars Foundation

HALO-Flight Inc.
Haven for Hope
Holy Cross Catholic School
Hotel Emma at Pearl
Howard Energy Partners
IBC Bank
John Jay High School
John Paul II High School
J.W. Marriott Hotel & Resort
Junior League of Victoria
K Friese & Associates
Kaplan College
Kent Powersports
Knights of Columbus – St. Marks
Kingsville Chamber of Commerce
Kingsville Independent School District
KIPP Aspire Academy
Kiwanis Scholarship Fund
KPMG US LLP
Lehmann Eye Associates
Lions Club of Rockport
Lions Club of San Antonio
Lone Star OBGYN
Luna Car Center
Mary Carroll High School CCISD
Mattress Firm
Minercorp
New Braunfels Jaycees
Newman Realty
OCI Solar San Antonio
The Orthopaedic Specialist of South Texas
Our Lady of the Lake University

Premier Medical Group
Primrose Charter Schools
Public Alliance
Rackspace Hosting Inc.
Ronald Reagan High School
Rotary Club of Corpus Christi
Safe Harbor Compliance
San Antonio Hurricanes Football
The San Antonio Orthopaedic Group
Sancus Energy Co.
Santa Gertrudis Academy
Sherwin Alumina
South Texas Funeral Directors Association
St. Francis of Assisi Catholic Church
St. John Berchmans Catholic School
St. Mark The Evangelist Church
St. Paul Catholic Church & School
South Texas Renal Care Group
System Controls & Integration
Texas A&M University – College Station
Texas A&M University – Corpus Christi
Texas Air Products
Texas Foundation for Hope
Texas Funeral Directors Association
Toepperwein Oral & Facial Surgery
TS Personnel LLC
UninTech Consulting Engineers
Wellmed
Wood Group of South Texas
Wounded Warriors San Antonio
WTS Women in Transportation
Zoho Corp
 
Book Us Today!
Complete the form below and a Party Consultant will contact you with pricing and availability info right away. Be sure to leave some details for us including guest count and any special requests in the comments section and let's bring The Strip to you!
Contact Us
210-816-DICE (3423)